We're making a comprehensive list of everything rockabilly for men you fellah's could ever want to. We're talking hair, fashion, and of course… girls!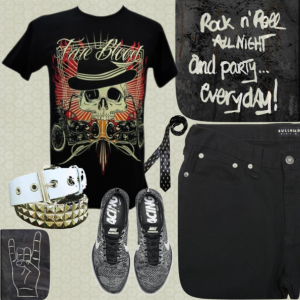 If regular men are sexy, rockabilly men are the cream of the crop. Something about that rebel attitude, the motorcycle charm, tattoos, and all of that fantastic rockabilly for men fashion make these rebels without a cause a huge score among the alternative and vintage crowds… However!
Whether you are a man, or you're with a man we can all agree: sometimes men need a little help, and rockabilly greasers are no exception! They may looks super sleek and rock 'n roll sexy, but these boys are definitely getting help from somewhere. From girls to clothes to moustaches, we're looking at everything rockabilly for men.
First things first…
The absolute first thing you need to know about adopting the rockabilly lifestyle is this: You are never too old to rock. Rockabilly was FOUNDED on music! So no matter what your genre; punk, alternative, rock 'n roll, classic bluegrass, rockabilly, or hey, even if you're lovin' on T-Swift's new album… rock out! Own your music choices and never hold back from enjoying them openly!
Rockabilly hairstyles for men
If you're looking to get into rockabilly styles for men but aren't sure where to start… try starting with your head! Or your hair, to be more exact. This photo shows 9 popular rockabilly hairstyles for men.
The pompadour hairstyle was extremely popular back in the day, and still serves as a great punk rock look for men today. Note that the cut lines in the illustration shows you exactly where to comb from, and in which direction. Of course there are many alternative hairstyles that go along with the rockabilly culture; Mohawk, fades, etc., but those pictures are some 1950's favorites that are sure to give your look an immediate pick-me-up!
https://www.youtube.com/watch?v=NSegylr0MBg
Still unsure what the heck you're doing? Take a look at this excellent tutorial by Anchors Hair Co showing you exactly how to style a pompadour, quiff, teddy boy, and other rockabilly men's hairstyles… only using a blow dryer!
Rockabilly moustaches – Facial Hair Counts
Alright, if you're not up on all things rockabilly for men then you have no idea how popular beards and moustaches have become! That's right, let your inner cave man run free (Well, on your face, anyway!) The following illustration shows off some truly sexy styles to shape your man hairs into. For some true punk-rock, rockabilly charm might we suggest the Chin Curtain, the Garibaldi, or the Shaft Beard? These styles are sure to please the pin-up girl of your dreams.
How to tie a tie
https://www.youtube.com/watch?v=eLqaIwiWEKE
Are you one of those punkers who loves the look of a loose tie dangling against your rockabilly t-shirt, but you haven't a shot in hell at knowing how to tie the thing? This hilariously monotone, British tutorial will show you definitively how to get that sucker tied in 10 seconds or less… and you don't even have to put it around your neck! Never have your friend tie your accessories again after watching this gem.
Rockabilly for men: Fashion
One of the biggest parts of the rockabilly culture is the clothing, and men are no exception! Whether you're a fedora wearing greaser, or a punk rockin' bad boy, here are some essentials you'll want in your closet: ripped black jeans, studded belts, Chuck Taylor high tops, rock 'n roll ties, rockabilly t-shirts, and the perfect biker jacket. Rock style is about layering fabrics and textures, so don't be afraid to play around!
Women
For every sexy pin-up girl, there is a greaser boy to win her heart. Remember this: compliments, respect, fidelity, and humor. We promise, that's all you need. In the end, when it comes to snagging that pin-up girl of your dreams, we couldn't think of a better example than the following meme.
There you have it: the comprehensive list of everything "rockabilly for men" that you could ever possibly want to know. Are we missing a key factor in manliness? Let us know in the comments below!