Spring is here, meaning it's time to revamp your rockabilly clothing wardrobe and prep for warmer weather. Here's how to style your punk rock clothes.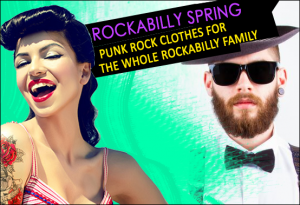 Springtime means flowers are blooming and the sun is getting hot. This is the time to bust out your Rockabilly Clothing and get styling. We have clothing options for the whole family. This ranges from baby onesies, men's rockabilly shirts, and rockabilly dresses.
Styling your clothes for changing season is half the fun of rockabilly fashion. Now is the time for leather jackets, mixed textures, long boots, flirty dresses, and baby bibs.
Follow along as we look through our favorite curated styles suitable for punk rock lovers, pin up girls, and badass babies alike. Without further ado, here are our rockabilly picks for Spring.
Check out our Polyvore set for Punk Pink Ladies For this Spring style we're pairing our black and hot pink rockabilly wiggle dress, an embroidered leather bag, leather jacket, and crazy rainbow hair to create the perfect rockabilly look for her.
This is our simple and casual look for all of our punk rockers out there. This simple spring wardrobe features chuck shoes, a black beanie, and our Macabre Show Death Love Song men's t-shirt. This look is perfect for slipping out on your skateboard or riding high on your road hog.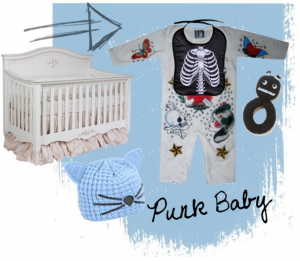 Springtime is here, so dress your rockabilly baby accordingly! We've styles this jumper/onesies that feature stylish tattoo inspired designs. Pair with a badass rattle, ribcage baby bib, adorable kitty hat, and a comfy crib and you've curated the perfect punk rock baby look!
Love our style? Check us out on Polyvore and follow for even more rockabilly clothing looks for men, women, and children.