Rockabilly kids clothes shouldn't be expensive or hard to find. They should only be stylish! Here are our picks for rockabilly kids clothes for Spring.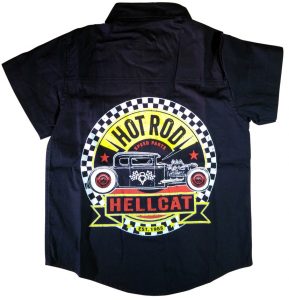 Dressing your kid in cool clothes shouldn't be a novelty, it should be a lifestyle! Be the cool parent who never dresses their kids in embarrassing, generic clothes. Rockabilly kids clothes make a statement and are so much fun to dress your little ones in. Your child isn't like everyone else, so why should they dress like everyone else? Here are some of our favorite rockabilly kid's clothes for spring.
Rockabilly Kids Work Shirts
Little boys want to grow up to be just like their dad's. Let your little one go wild in this rockabilly boy's work shirt. This collared, short sleeve, black button-up features a hotrod design that will make him think he works in a 1950's garage servicing classic cars just like dad used to do.
Rockabilly Baby Onesies
Onesies are so stylish, even adults want to wear them now! We're sticking to rockabilly baby onesies and we think they're pretty stinkin' awesome. These onesies feature hilarious rockabilly phrases such as a jailbird inspired print that reads: "I've been inside for 9 months!" Onesies are also a convenient piece for your baby's wardrobe since they're easy to slip on and off for quick diaper changes or mornings on-the-go.
Rockabilly Kids Clothes for Spring
Quarter length sleeves are great shirts for little ones during the Spring months. These can be worn on their own on warmer days or paired with a kid's sweater for some extra warmth.
Designs for this rockabilly kid's shirt include a Mexican inspired skull with hearts for eyes and a big message on his teeth.
Rockabilly kids clothes for Girls
Little girls should never be left out of rockabilly fashion. Before they are old enough to be considered a pin up girl they start out the way the rest of us did: with rockabilly prints. We have a huge selection of rockabilly girls shirts, like the white cherries polka dot tank top. Pair these with cute frilly skirts or little baby leggings for an awesome rockabilly look.