Fall is coming and bringing with it spicy hot drinks, sexy black boots, and new hair trends. Here are 4 rockabilly hair colors for fall.
As much as we wish we could rock our pinup bikinis and rockabilly dresses for the rest of the year, there comes a time where you just have to admit it. Summer is coming to an end, but that doesn't mean the fun is over! Autumn is the center of new fantastic fashion. Think about it. With autumn comes sexy leggings, vampy lipstick, and basically pumpkin spice everything. Did we forget to mention our personal favorite? Rockabilly hair colors for fall! Bright blondes-be-gone for autumn is here and with it comes a host of new and exciting hair colors and styles to get your rockabilly done right.
We are looking at the best rockabilly hair colors for fall.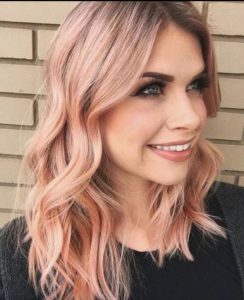 Rose Gold
This shimmery pink hue is still going strong, and we're officially dubbing rose gold the new rockabilly blonde for fall. This subtle pink toner gives off a metallic finish and looks good on all skin tones. The best part? If you're digging the rose gold but are ready for a change, you can do a wash out that will only last about 7 washes.
If you're looking to maintain your rosy locks, buy some red shampoo, treat your hair with olaplex #3, and avoid washing your hair as much as possible. AKA, make dry shampoo your new best friend.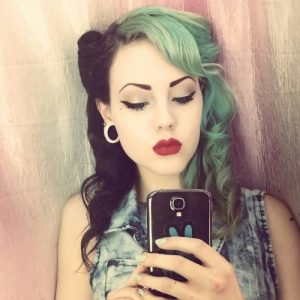 Two-Toned Hair
Forget ombre and balayage, two-toned hair is the next big thing for punk and rockabilly girls. This hot hair trend for fall has endless options: black and white, blue and pink, red and black, purple and blue, dark green and lime green. This edgy look is perfect for any punk rock princesses.
Mermaid Hair
Mermaid hair transforms everyday blondes into aquatic goddesses. Usually using a blend of purples, pinks, and blues, this shade is a fun way to play with color and still come off as elegant and sophisticated. This is a great way to spice up your hair this fall. If you're curious how to achieve this gorgeous pastel look, check out the video above!
Ginger with a 60's twist
Want something edgy with a 60's rockabilly twist that won't have you sporting "unnatural" hair or bleaching your locks to heck? This 60's inspired look features long ginger red hair, a touch of blonde ombre, and a stripe of fashion forward blonde bleached into Bettie Paige bangs. Perfection!
Have you got a hair color for fall that we failed to mention? Leave it in the comments below. Don't be afraid to spice up your autumn and try out one of these rockabilly hair colors.