Fall fashion is calling and we're showing you how to put together the perfect outfit with Punkabilly Clothing. Here're 3 fall fashion ideas we're loving.
Fall fashion is upon us. It's time to bust out the sexy black boots, leather jackets, and all those figure flattering pants. A lot of rockabilly fashion lovers aren't sure how to transition their summer wardrobes into fall, so we're here to help! We're showing you some of our favorite fall fashion ideas with Punkabilly Clothing and teaching you how to transition your wardrobe so you can still bust out those rockabilly dresses.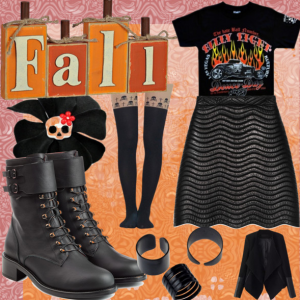 Fall Fashion Idea #1 – Rockabilly Office
If you're looking to style your rockabilly favorites into something a little more professional, this fashion find is for you. We've paired out Billy Eight racing tee tucked into a rippled leather skirt. The detailing on this skirt makes this outfit figure flattering on all sizes. Pair your outfit with a sharp blazer, combat boots, cute tights, and modest rockabilly accessories for an office outfit with a twist.
Fall Fashion Idea #2 – Casual Chic
This fall fashion idea is definitely rockabilly chic. We've paired this sexy polka dot long sleeved shirt with some high waisted denim for a casual chic look. Use cute bangles and open toed strappy shoes to add a little extra flair to this everyday look. The tattoo inspired rockabilly purse and keyhole neckline on the shirt give this easy outfit a little extra va-va-voom!
Fall Fashion Idea #3 – How to wear a dress in Fall
A closet full of summer dresses should never be hidden away during autumn. The easy trick is to pair your rockabilly dress with a long sleeve sweater or jacket. Wear thick leggings and high boots under the dress to protect your legs from chilly weather. In this Polyvore outfit we've paired a red polka dot rockabilly dress with pleather leggings, a leather jacket, and stylish studded boots.
Fall fashion is one of our favorites. Chilly weather should never mean the death of your rockabilly wardrobe! Throw your hair into rockabilly victory rolls and paint on your favorite pin up makeup to really spice up your outfit and make your summer wardrobe transition into rockabilly fall.