Cheap rockabilly clothing is hard to find, but we're making it happen. Here are 5 rockabilly clothes for under $30.
Cheap rockabilly clothing that is high-quality and looks amazing? No, you're no dreaming – it's possible!
The rockabilly look is easy to achieve in modern days. All it takes is one amazing piece mixed with some affordable accessories found in your own closet to pull off the look. For example, buy one of out nautical inspired vintage shirts and pair it with high-waisted cuffed jeans and a polka-dot bandana from your very own closet. Pair this outfit with bold red lips and curly hair and you're a walking talking pin-up girl!
Why is rockabilly clothing so expensive? You'd best believe that classic pin-up girls and greaser guys weren't paying $120 per garment back in the 1950s! We believe that rockabilly clothing should be affordable and high quality.  Yet, most stores today sell their vintage garments for way more than that. We're breaking the rules and showing you 5 cheap rockabilly clothing under $30!
Low prices should never mean low quality. Our rockabilly dresses should make you feel like a million sexy bucks. We have tons of rockabilly dresses that come in well under the $30 mark that will hug your curves in all the right places. Whether you're into tea dresses, wiggle dresses, or the leopard print number shown above – you're going to love our selections.
Rockabilly men's clothing shouldn't be expensive. Why? Men are low maintenance when it comes to their clothes – especially punk rockers. They want to buy something simple that feels great and looks even better. No fuss, no muss! This badass skull cherry black t-shirt comes in at under $20 – an absolute steal for true greaser guys.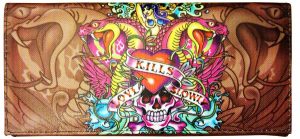 Don't forget the accessories! We have a killer rockabilly wallet for just $11.78. This accessory features the killer phrase: "Love kills slow" overtop a colorful illustration of snakes and skulls. Use this as a wallet or clutch for a rockabilly night out.
Gear up for Spring in style with our rockabilly women's shirts. These tops are vintage inspired and feature all the best pin-up girl prints. Cherries, leopard print, stripes, and nautical themes adorn these affordable rockabilly tops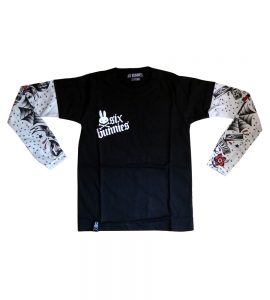 If you're a rockabilly mama or papa, you want your little one to dress the part, too. With kid's constantly growing it can be difficult to maintain their wardrobe at affordable prices. That's why we offer affordable rockabilly kid's clothes, like the snake razors long sleeve tee shown above. Our items are 100% cotton and let your little one show off their true punk rock nature.