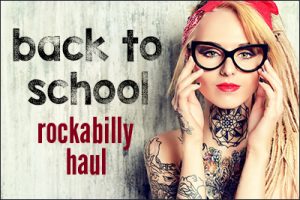 Back to school shopping doesn't have to signal the end of summer. Instead, let it signal the beginning of rockabilly clothing hauls!
It's September, which means it's time to head back to school and figure out who you are in the grand scheme of things. Who you want to be. What you want to become. And we hope that what you want to become is a rockabilly clothing style icon. Here are some of our favorite rockabilly clothing choices for back to school shopping!
Back to School Men's Rockabilly Shirt
Rockabilly guys have it easy when it comes to getting ready in the morning. Grease your hair back,
throw on some jeans and this motorcycle-inspired rockabilly "Oil Leak" t-shirt and you're good to go.
Hair Accessories
The right hair accessory will make your rockabilly hair look amazing, even on your worst hair day.
Whether you enjoy catching some 'Z's' and getting ready at the very last second, or a leisurely morning
of pin-up primping to get ready for school, this black rose skull hairpin will help you on your way.
Nautical Rockabilly Tops
All summer you relished wearing your rockabilly dress, but now that autumn has arrived you're feeling a little stumped for pin-up inspiration. Have no fear! This is a versatile top that can give you so many layers of rockabilly. Go casual by pairing it with skinny jeans and a red bandana, or class it up with a
black cardigan and skirt.
Rockabilly Makeup Bag
Heading to school, whether college or high school, means taking your makeup on the go. This "Stewed,
Screwed, and tattooed" cosmetic bag is hot and sexy with a tattooed pinup girl featured in a whiskey shot
glass. And if anyone knows how to expertly apply makeup on the go, it's a pin-up girl.
Rockabilly Bowling Bag
Backpacks are so yesterday, are we right? Carry your school supplies in style this year with this leopard print, tattoo-inspired rockabilly bowling bag. Sturdy and sexy, this rockabilly bowling bag is going to be your new favorite accessories