Looking to spice up your rockabilly Spring wardrobe? Check out these great new finds from Punkabilly Clothing.
Springtime is very inspirational for improving your fashion style. Bright colors and light fabrics, Sun and the slow breeze, it all goes with the perfect Rockabilly spring style. Although the latest fashion trends require simplicity and imply mono-color clothes with some mild patterns and discrete design, you can still make your spring awesome, rocking and original. How else are you going to prepare for a swell summer?
Rockabilly can be the key to a colorful spring outfit and our retro clothing shop is here with plenty of suggestions for this season.
1. Dress
A good dress is a synonym for springtime. Grab it and wake up your elegance. Our suggestion is red hot rockabilly model with tattooed rose motives and traces of 50's pin up style. This knee length dress will point out your body's curves and hide the unwanted excesses and flaws. It is quite convenient for combining with various kinds of accessories. This rockabilly piece is rebellious, but still very gentle.
2. Skirt + top
If you are having problems with deciding what to match, here's a ready-made set of suggestions which always work. Black, red and white combo is always safe, but still rocking.
This skirt is very practical for everyday walks, it's light, sexy and attractive. Most of all, it is a great base for a cool combination.
Cherries on top are our suggestion for sweetening your rockabilly spring outfit. This piece will paint your days retro. Be ready to experience the freshest taste of 50's!
3. Leggings + T-Shirt
Make an awesome rockabilly chaos by matching these models with interesting skeleton prints. It can be a great fashion experiment.
These leggings are comfortable, adorable and crazy.
This T-Shirt is simple, but effective, with a detailed and artistic print.
You can enrich your springtime style and rebellious mood using a variety of other rockabilly motives, such as crossbones, nautical stars, animal prints, checked patterns etc, but try to make them complete. Never forget the details. Our collections of accessories abound with inspiration. Chase some good ideas on pages full of wonderful jewelry, neck ties, gloves, pendants, suspenders and other retro inspired bits.
4. Wallet
One of our favorite accessory recommendations is a good wallet. Peek into our punk wallets collection and enjoy these colorfully designed models. They come in various sizes and patterns, with an important common feature of high quality. This skeleton rose model will level up your style!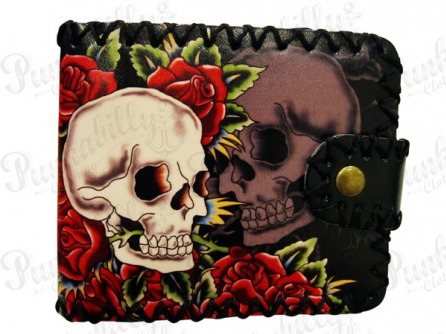 Finally, rockabilly is just one way to make your spring style awesome. You can always complete it with a bit of pin up, punk rock, navy style, polka dots, spider webs etc. Mix it all with your own aspirations and all of your trends will be original. If you want to keep up with our latest collections and get your fashion inspiration, drop by our page with the new items, where you'll get some fresh ideas for rockabilly spring combinations & much more!