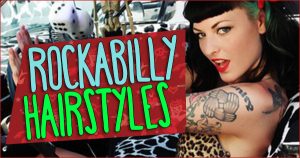 Is it any wonder why people love rockabilly hairstyles so much? With styles ranging from the 40s to the 60s, there's plenty of trends to choose from – and they never go out of style!
Take rockabilly hairstyles, for example. When it comes to doing rockabilly hairstyles, you know that your hair is your thing. That's why choosing the right one is so important. Styles range from intricate to an easy 5-minute morning hairdo and then it's out the door! Check out our favorite rockabilly hairstyles for Summer 2017.
Simple, Pretty, Versatile: Braids

Braids are a punk rock favorite. What other rockabilly hairstyle can take you around the world? There's Dutch braids, French braids, and of course, three strands! Use your braid as a base for a sexy fauxhawk, a base for overnight boho beach waves, or go intricately pin up girl as seen above!
5-Minute Rockabilly Hairstyles: Bumper Bangs
During the war, ladies in the 1940s and 50s were suited up to do the jobs the military men left behind – Working in factories! This meant getting creative with rockabilly hairstyles while managing to keep their bangs out of their eyes.
Thus, the bumper bangs were born! This rockabilly hairstyle couldn't be simpler to do, as shown above! Wear this look with your hair down and curled, or keep it casual by throwing it up in a high ponytail with a rockabilly bandana.
This is a great 5-minute hairstyle that will get you from the vanity mirror to your pin-up sock hop in no time flat – looking fabulous!
Rockabilly Hairstyles for Men: The Pompadour
For all our fellah's looking for rockabilly hairstyles for men, you're in luck. Pompadours were all the rage in the 50s and 60s. All you'll need to pull this look off is a teasing comb and some hairspray. Watch the video above and voila! Watch the pin up girls roll in.
Be sure to check out our rockabilly hair accessories to make your rockabilly hairstyles stand out with even more pin up girl glory!