Are you planning a rockabilly wedding? Nothing is more on-trend than having vintage style, rockabilly bridesmaids dresses. We're showing you how to pull it off!
Whether you're a bride planning her rockabilly wedding, or are a bridesmaid looking to get out of those notoriously awful bridesmaids dresses, have we got a trend for you: Rockabilly bridesmaids dresses!
Using wiggle dresses, pin up, and flared swing dresses in your bridesmaid's wardrobe adds an eclectic mix of feminine and rockabilly chic to your wedding line – especially if you mix and match! That's right, when you go vintage with your wedding it opens up a world of possibilities, all more unique and creative than the last. Check out our collection of vintage inspired pin up wedding dresses and let your bridesmaids breathe a sigh of fashionable relief!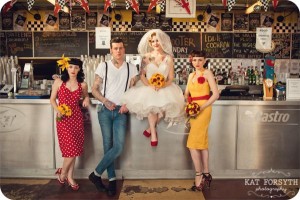 Mismatched rockabilly bridesmaids dresses
Having mismatches dresses is a huge wedding trend when it comes to your bridesmaids. Gather together vintage pin up wedding dresses with the same color palettes, but in totally different styles! This is a great way to make your bridesmaids show off their individual styles. PS: mismatching shoes and creative pantyhose are also great ways of making your rockabilly wedding that much more unique!
Leopard print swing dress
Want something classy and rockabilly for your bridesmaids to wear? This vintage inspired swing dress has it all: a flared skirt showing off that classic 1950's style, a waist-flattering bow ribbon, a sexy corset back… and have we mentioned its leopard print? If you don't fall in love with this flirty and flattering rockabilly bridesmaids dress, we'd be absolutely shocked!
Vintage floral rockabilly bridesmaids dresses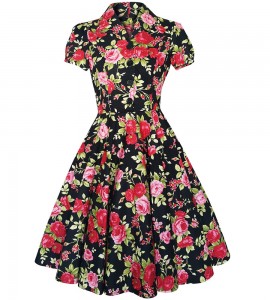 Looking for something a little more girly for your big day; less skulls, more flowers? Our vintage tea dress is definitely wedding worthy with its feminine floral and flared skirt. This rockabilly bridesmaids dress has a gorgeous popped collar and over-sized buttons that adds a particularly vintage feel to your lineup. This dress looks stunning with fishnet stockings and a bright pink lip.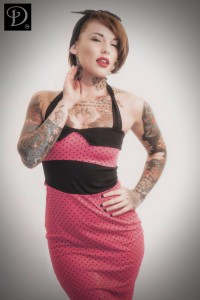 Black and pink polka dot wiggle dress
If you're not afraid of your bridesmaids getting a little sexy, then this black and pink polka-dot wiggle dress is just what you're looking for. This wiggle dress shows off a halter top strap and a more than flattering, waist-cinching black band around the waist. This wiggle dress flatters all sizes, showing off your bridesmaids curves in all the right places. Make a statement with your rockabilly bridesmaids dresses by giving your girls something sexy to show off in!
Throw bad bridesmaids dresses to the curb and make your vintage wedding a breath of fresh air for your ladies in waiting! Shop our full collection of potential rockabilly bridesmaids dresses and your bridesmaids can thank us later!