Looking for cheap rockabilly clothes online, or maybe you're wondering why rockabilly vintage clothes are so expensive. We've got the answer to both!
Rockabilly style is one of the most unique, classy, fun, and trendy ways to live. Many people say rockabilly isn't about the clothes, the music, or the tattoos, it's about a lifestyle. Unfortunately, that lifestyle can get pretty expensive! In fact, one of the top reasons people are put off exploring the rockabilly culture is because it's so damn expensive.
It seems like in the majority of online shops and local retro clothing / vintage stores, scoring a rockabilly dress for under $100 is near impossible – especially for those sporting plus size rockabilly clothes!
So what's the deal? Why are rockabilly clothes so expensive? For one, vintage inspired clothes use high-quality fabrics. Another reason is because rockabilly styles are specially made for a niche group. This means they aren't in mainstream demand, therefore those selling them need to make more of a profit than commercial stores. Bottom line, these clothes are made to last. You'll never find quality items like this at Forever21, but that quality comes with a price. But, does it have to?
At Punkabilly Clothing, we believe cheap rockabilly clothes should be available for everyone! Our styles are affordable and attractive, and never sacrifice using high-quality materials. Want affordable rockabilly clothes? We're looking at cheap rockabilly clothes that don't ever hit the $50.00 mark!
This pink rockabilly leopard print mini-dress is perfect for a night on the town and can even be paired with ripped leggings for a perfect, rock 'n roll night out. Come get this quick while it's on sale! (PS: We also have other great prints in this rockabilly mini-dress style. Come check them out!)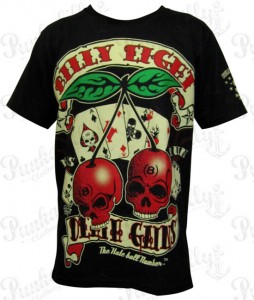 Punkabilly Clothing hosts an amazing collection of men's shirts, t-shirts, work shirts, and punk jackets. We have tons of cheap rockabilly clothes and men's t-shirts coming in at under $20! Start dressing like a punk rock star in our rockabilly line.
Want to get a rockabilly bikini without the gigantic price-tag? This red polka dot, cheap rockabilly bikini features high-waisted shorts with adorable buttons, and a halter top with a white bow tie. Check out our cheap rockabilly clothes and stylish pin up girl swimsuits for under $50!
Looking for the perfect rockabilly wiggle dress to strut your stuff in? This red leopard rockabilly dress mixes glamor and rock 'n roll together to make one sexy combo! For the punk girls, pair this dress with a leather jacket, and for the girly-girls, pair this with a cardigan and heels.
Enjoy our extensive collection of cheap rockabilly clothes and visit our website for even more pin up girl and greaser boy selections!