Punk style has hit everywhere from underground rock legend's to mainstream pop artists. Here's what you can learn from the punk rock style.
Ever since it showed up, punk style was very specific when it comes to fashion. But despite many common style features, there are numerous differences between punk fashion lovers. Most famous punkers are an obvious proof for that. Some of them improvise and rely on their creativity, while the others do not even look like punkers. That's the evidence that punk style emerges from an attitude, not from the fashion magazines. So, let's get to know the style of the most popular punk musicians.
1. Johnny Rotten and Sid Vicious (Sex Pistols)
As the pioneers of this awesome music, they have also had a big influence in punk fashion. Their style was not less than shocking. They wear a lot of leather on many photos. Also, shredded jeans, mesh shirts, safety pins and a lot of chains – that's what made their punk style so recognizable. Inspired by their metal accessories, we have prepared a fresh collection of wallet chains for you. Also, their hairstyles were pretty specific and crazy.
2. Patti Smith
This punk lady lets her songs talk about her style instead of her clothes. Her combinations often imply large shirts and thin neckties. Actually, her hair is her most rebellious punk style feature. Long and dark, with specific fringes. Also, she rarely wears makeup. Her overall appearance is absolutely bohemian and artistic. Even though she looks like she doesn't pay a lot of attention to her image, she has managed to become a kind of punk fashion icon.
3. Ramones
This band had many members, but the change of the members has never changed the band's image. Their style is actually a little bit different from the "regular" punk appearance and they look more like rock stars. Their specifically shaped black hair with fringes gives special charm to their not so specific clothing style, usually consisted of jeans and black leather jackets. As for the details, Ramones were mostly into the leather bracelets. You can check out something similar right here.
4. Avril Lavigne
Hardcore punk style lovers often deny Avril's significance for the music, but when it comes to the spreading of punk clothing style among the youngest people, her contribution is undoubted. Her style can easiest be described as skate punk, but that's not all. There are many features unique for her style, such as checked materials, long striped socks, skeletons printed everywhere, crazy colors in hair and, of course, the unusual neckties. You can find some awesome punk ties right on these pages.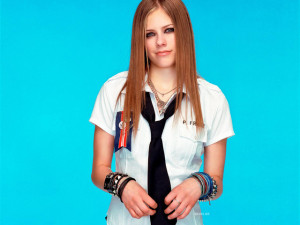 Many other punk stars have equally interesting style as the listed ones, while the other significant musicians don't really bother with the style that much. Both ways, punk and its style come from the heart. That's how we create the collections for our punk rock clothing shop – from the heart, with a lot of love. Explore our pages and build up your own rebellious style. We are sure that you will look like a punk star.