Earrings can make all the difference in your rockabilly ensemble. Add some spice to your finished look with these rockabilly styles.
Simply defined, earrings are kind of decorative item for ears. Their name comes from their original and most common annular shape. Now, the more accurate definition of earrings is that they are often girl's best friends and a determinant of the style. Not only women, but men also enjoy upgrading their image using these accessories. Through the history, the earrings have had many roles in traditional, social and fashion context. Today it can also be an interesting indicator of a person's attitude, habits and style.
There are two basic kinds of earrings – the clip-on and piercing styles. Also, there are many subtypes of this jewelry. We differentiate them by their size, shape, pendants, materials etc. Also, for the piercing it is very important where are they settled. Traditionally, they are placed on the earlaps, but nowadays, it can be in any part of the lobe. Earrings have their special names based on their position: helix, industrial, rook, daith, tragus, snug, conch, anti-tragus and lobe.
The history of earrings is very long – they are among the oldest ways of decorating the body. There are many archaeological, and even one Biblical proof for that. They have had different roles in every culture and different meaning. It is known that men wearing earring isn't a modern phenomenon. Even William Shakespeare, as well as many other important poets, had a pierced ear lobe. The African tribes also have interesting ways of piercing ears. Their ear decorations take an important place in tribal culture and beliefs. They often wear plugs and tunnels. Inspired by such accessories, we have created our own line of jewelry available here.
Earrings are very important in punk culture and they were always a rebellious accessory. Striking and prominent shapes, colors and sizes are a punk default. The cool old punk rock motives such as skeleton heads, nautical stars, anarchy sign etc. are present on punkers, as well as on all the others fashion accessories. We are happy to offer you several splendid pages with such models.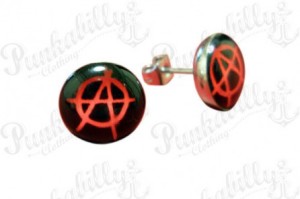 Rockabilly ways are slightly different, but as awesome as the punk style features. Rockabilly earrings imply motives such as fire, playing cards, rolling dices, sweet cherries, checked design and similar. We can offer you high quality punkabilly fun packed in these swell models. Beside the studs we also have many models with pendants.
Finally, the retro features are also with us in this jewelry collection. High quality and affordable prices are equally present as the original and rebellious design. Beside some classic models with animal and floral prints, you can also find studs with printed pin up girls.
The jewelry trends are changing, but trends should only be an inspiration for our unique style. Adapt your earrings to the occasions and the trends, but above everything – adapt them to your own personality and style aspirations.