Pinup movies are a true embodiment of pinup girls: sexy, seductive, and scandalous! Here are some of our favorites.
As the main art of the 20th century, film is dealing with many other forms of art. Famous pinup girls were not only movie stars – pinup culture was an inspiration for many movies as well. Some of those pinup movies present us lives and work of famous divas, while others abound with retro spirit and give us a ticket for a time travel. What's also interesting is the fact that many of those movies had a fashion influence at certain moments. Before you fall in love with the swell fashion of our pin up clothing shop, take a look at our list of suggestions for pin up movie fun.
1. The Notorious Bettie Page
This biography feature was released in 2005 and directed by Mary Harron. It is inspired by life and controversy of famous 50's pinup model Bettie Page. Although some of the dialogues are authentic, it is not completely historically accurate and some of the movie events are fiction products, but regardless of that, it is still an exquisite motion picture. It brings out the essence of Bettie's turbulent life and sketches the outlines of her style.
2. PinUp Girl
One of the earliest pinup movies was released in 1944 and it is a musical romance. The star of this movie is Betty Grable, famous for her bikini photo which was most reproduced photo during the WWII. It is an interesting story enriched with wonderful and elegant costumes. This movie has increased the popularity of certain models of dresses, which is pretty visible in many pin up collections nowadays.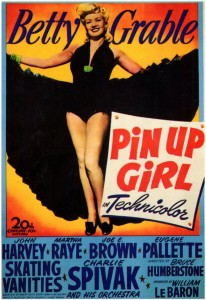 3. Rita Hayworth Movies
Rita Hayworth is extraordinary for many reasons. She was one of the first actresses who have dyed their hair for the movies. Her acting was equally as magnificent as her unique style. And her style is pure retro glamour – long evening dresses, neat curly hair and classic pinup makeup (dark eyes and prominent lipstick). She became worldwide famous thanks to her movies such as Gilda (1946, directed by Charles Vidor), The Lady from Shangai (1947, directed by Orson Welles) and Pal Joey (1957, directed by Sidney George).
4. Marilyn Monroe Movies
Marilyn Monroe was a unique diva and if we would have to name one woman with the biggest contribution to the overall pin up world, she would definitely be The One. She has popularized the classic pinup look – curly short blond hair combined with red hot lipstick. Her elegance is a timeless quality and it is highly expressed in her pinup movies. She has acted in 33 movies and Some Like It Hot is the most popular. She also had big success in Howard Hawks' movies Monkey Business and Gentlemen Prefer Blondes. There are numerous documentaries about this star including the movie Love, Marilyn released in 2012. This movie is partially based on her personal papers.
Movies are a wonderful and fun way to find out more about rich pin up culture. With a larger knowledge acquired from the movies, it will be easier for you to find an inspiration for your personal pin up style.