Whether dressing up in a rockabilly costume, or headed for a night on the town, we're looking at sexy rockabilly hair & pin up clothing!
Fall is the time for fashion and clothing – more specifically? Pin up clothing! That's right, next to Summer, Fall is the biggest style favorite for those loving rockabilly and pin up clothing. Talk about scarves, knee-high boots, and red lips, oh my! We want to take you through an easy, breezy Fall fashion centered around rockabilly styles that are both easy, and cheap to achieve!
Vintage Makeup
Fall makeup is all about that ruby red, vampy lip, and smoldering smoky eyes. What could be better for vintage lovers? Smoky eyes, winged liner, and a dark lip seem to go hand in hand with over-sized scarves, flared rockabilly dresses, trench coats,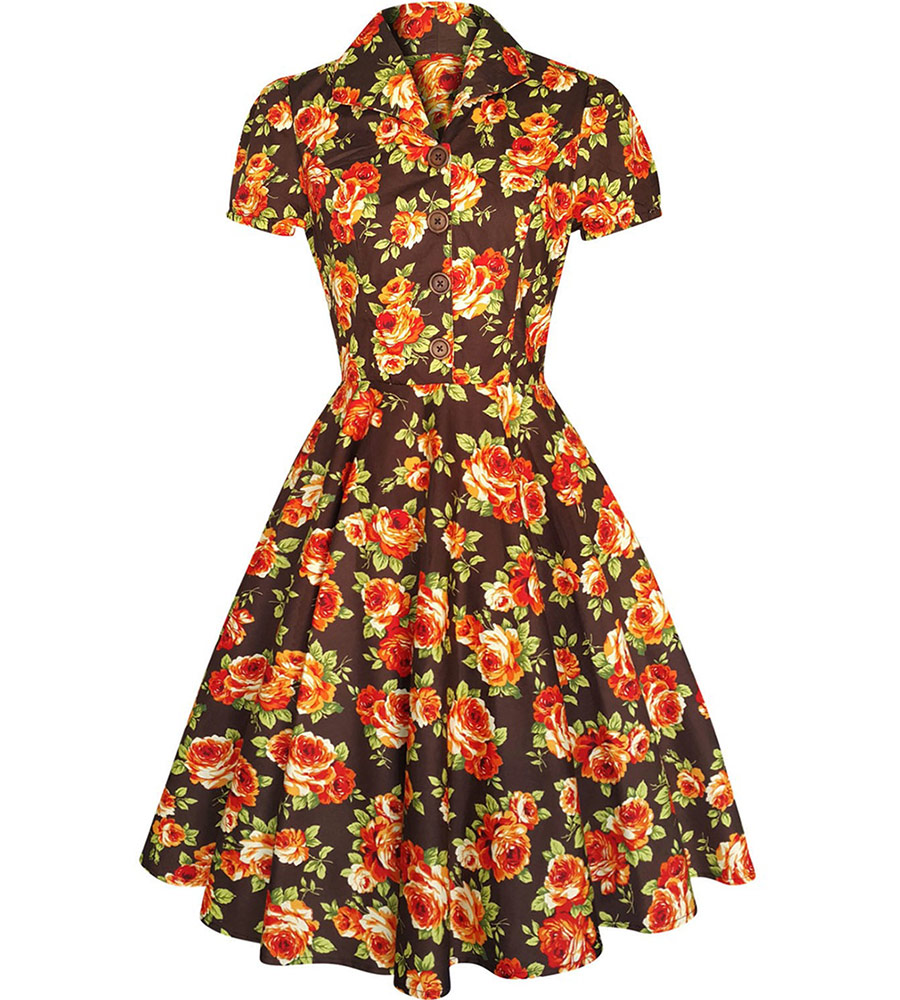 and tall boots. Choose smoky palettes and blend soft and deep browns in an appropriate gradient that compliment your eye shape. For fall lipstick, it seems any shade of berry, deep plum, or crimson will do, but for a perfectly pin up girl lip go for something classic like our pictured red lips (Try Smashbox's Be Legendary lipstick in Chestnut!)
Fall pin up clothing
Who says you can't wear dresses in the Autumn?! Part of the reason we love pin up clothing is because it's so versatile. Take for example Punkabilly Clothing's gorgeous new vintage inspired tea dress. With its brown back-splash of beautiful floral roses, this classic tea dress flows down into a wide flared, full circle skirt that gives it the perfect vintage feel. This seemingly "Summer" brown and floral dress can easily be transitioned to fall by pairing it with a brown trench, tall boots, opaque leggings, and vintage hair waves. Fabulous fall fashion, anyone?
Easy pin up hair
Short hair is super trendy for fall. Short hair will allow you to show off your mad skills with little tresses and your hair won't get in the way of your rockabilly scarf! A great example of vintage hair for fall is this Marilyn Monroe hair tutorial done (above) that shows you how to get perfect Marilyn curls in under 5 minutes! This style could not be more on point, or more appropriate for fall weather!
For even more pin up clothing and rockabilly fall accessories, come check out punkabilly-clothing.com, and get $10 off when you subscribe to our newsletter! Until next time, rockabilly fanatics!