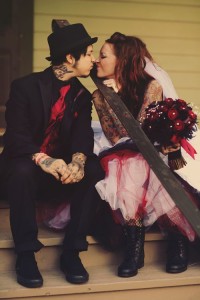 Rockabilly wedding themes are all the rage this season. Learn how to throw a rockabilly wedding that's fun, unique, and budget friendly.
Rockabilly weddings and vintage rustic themes are all the rage in the wedding world. Seeing as it's now wedding season, we thought we could show you a few easy ways to rock your wedding this year. Throwing a rockabilly wedding means taking a step outside the box to amp up your special day. Rockabilly weddings = FUN weddings. Rockabilly weddings contain unique ideas that get your guest's involved in some majorly creative style and dress. Here's 4 easy ways you can throw a rockabilly wedding on a budget!
BRIDES
Vintage or vintage inspired wedding dresses are the must have for a rockabilly wedding. Dainty flared skirts that cuts off at the knee are a must. For makeup, choose classic red lips and a winged cat eye. For your accessories, wear a vintage veiled hat for a perfect rockabilly flair. Tea-length dresses are super flattering as a wedding dress, especially paired with our rockabilly wedding accessories.
THE BRIDESMAIDS
If your wearing a vintage or traditional white dress, then it's up to your bridesmaids to show off a little bit of rockabilly pizzazz. Set them up with 1950's pinup girl hairstyle's and sexy red lips. Rockabilly wedding swing/bridesmaids dresses are perfect as bridesmaids dressers, since they are flattering on all body types. Swing dresses come in fun and flashy patterns, making this choice for bridesmaids a real show-stopper.
THE GROOM AND GROOMSMEN
Just because the bride traditionally plans the wedding doesn't mean she should leave her leading man out of the rockabilly occasion! Forget about the tuxedo, rockabilly weddings are all about dressing it down. Dress your man in slacks, a rockabilly wedding tie, and our hot suspenders. Finish off this sexy groom's look with a leather jacket or a simple vest. Details are everything in a Rockabilly wedding, so don't let your man get away with a boring old suit!
FAVORS AND DECOR
Rockabilly wedding are chill, unique, and above all else: FUN! Spice up your wedding with out of the ordinary ideas.
Instead of traditional numbers, choose famous rockabilly couples as table names. One example would be: TABLE #1: James Dean & Ursula Andress. TABLE #2: Buddy Holly & Maria Holly. TABLE #3: Johnny Cash & June Carter, and theme the table settings around them.
The finishing touches? Make sure you get a fabulous cake with skulls and polka-dots. Use glass soda's for your drinks, served old fashioned soda machine (free, of course!), and of course a fantastic 1950's diner inspired candy bar!