Retro fashion is all the rage… still! How is it that these rockabilly and pinup girl styles are still so popular?
Here's a big fashion question – why retro when we have so many new models and designs? Why 20's or 50's when fashion is being updated all the time? What do we need vintage and retro fashion styles for ,when we could wear the latest pieces of clothes? Yes, any woman could rightly ask such questions, but there are many reasons to accept the old school fashion and retro ways. Here are some of them.
1. The Elegance
Contemporary fashion usually counts on endless creativity and estranging style. That's awesome, but sometimes it's far from the basic idea of elegance. On the other hand, retro fashion dresses spread the pure spirit od elegance. Why? Because they pefectly underline the best features of woman's body. Because they're made to express the beauty and nothing but beauty. Vintage pin up clothes bring you the simplicity, but with a refined style. Not to mention how practical vintage fashion is! Explore this amazing collection and make sure yourself.
2. The Uniqueness
Since so many girls prefer to follow the latest fashion trends no matter what, it leaves you a lot of space to be unique and build up your own style full of something different – retro fashion spirit. Vintage pin up clothes are unique per se, since contemporary fashion often neglects the uniqueness and even makes clothes as uniforms – all the same. If you believe that your clothes can say a lot about you, you'll probably choose retro style clothing over the latest fashion. Vintage will speak for you and say that you are courageous enough to go beyond the given boundaries of trends. Uniformity or individuality? If you choose the other one, we're here for you with many awesome ideas.
3. Inspiration
If you are a fashion lover and you like to wear trendy clothes, you can still keep the retro fashions current. Many famous designers find their inspiration in 50's, in pin up style or in rockabilly when they design a new item. Sometimes it's hard to say is it a piece of the latest collection, or is it something borrowed from vintage pin up clothes from some old wardrobe. Many contemporary designers are very skilled in combining retro with new trend demands. They make some practical clothes, like tops available on this page, but based on classic retro rules. And their vintage inspired clothes are usually as awesome as the original vintage fashion.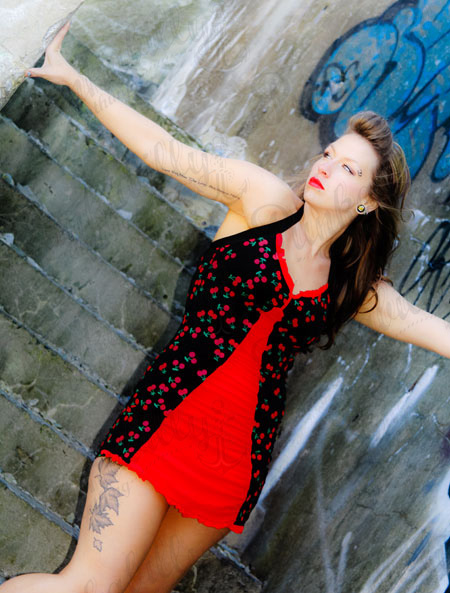 4. Nostaligia
Nostalgic for the 50's? I know, I know, I wasn't even born then! But there are different types of nostalgia, for example, there's this general human nostalgia for the old times, when everything was slower, more natural, less computerized, when everything was live and not on line. Watching the old movies makes us think how romantic those times were and it makes us wish to feel a piece of those days. That's when fashion helps us. Imagine how different a day at the beach could be if you go there in a vintage swimsuite (and you'll easilly find yourself a great one here). You'd probably feel like you're living a movie while you're laying under the sunshade and drinking lemonade.
5. It's classic!
Good fashion lasts forever. It simply becomes classic. And what the word "classic" means? It's derived from the word "classy". That's one of the main reasons for choosing the vintage pin up clothes or rockabilly style. Enjoy this eternal fashion!