Did you know 1950's bikers were called greasers? Get the style with Punkabilly Clothing and learn how to dress like a rockabilly biker.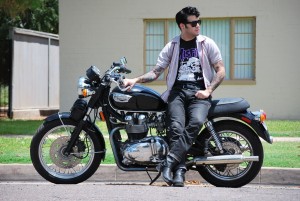 In the 1950's the men were a different breed. Not only did these original hipsters open doors for their pinup girls and throw jackets over puddles, they also sported slicked back hair, sexy sunglasses, and had the best rockabilly style around.
Girls swooned for a rockabilly biker, or "greaser". These bad boys inspired the ultimate bad boy with a heart of gold Danny Zuki from Grease, and had an influential style. By the 1950's, men's rockabilly style was being highly influenced by Hawaiian shirts and WWII. Sound like an odd mix? It was, but it worked. Greasers took this style and flipped it on its head. Biker's back then sported slicked back hair, leather rockabilly biker jackets, and awesome boots. These bike gangs were far from Sons of Anarchy. In fact, the rockabilly biker of the 1950's rarely participated in gang violence, guns, or drugs. Back then it was all about having fun and getting the girl.
Want to be the perfect biker? We're giving you 4 easy ways on how to dress like a rockabilly biker.
Dress the part, but don't over-dress. Leather jackets are an absolute must for rockabilly biker's. While dressing in a full suit of leather may make you look and feel like a big man, remember that leathers are worn for protection and warmth. It's important to stay protected, even in the summer heat, but wearing full-body leather in 90 degree weather may make you look like more of a poser rather than a biker.
Don't wear fringes. This isn't the 1980's. You're a biker, not a topless dancer! Leave the fringes for the bedroom.
In order to dress the style, you must own a bike. Don't fake it 'till you make it on this one, boys. You're a greaser, and a man of style! But… if you don't own a motorcycle, you're not a biker!
Layer your clothes. Layering your clothes can make all the difference from looking like a hot biker, or a try-hard. Choose some of Punkabilly's rockabilly men's t-shirts to layer under your leather or rockabilly jacket.
We love bikers, motorcycles, and most of all: rockabilly style. Make your transition into your bad boy, rockabilly biker style by shopping Punkabilly Clothing today.