Is the fashion world getting hostile? Plus size women are finding it harder and harder to find plus size rockabilly clothing in their size. Here's why.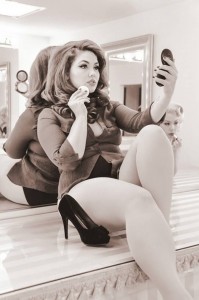 Plus size rockabilly clothing is all the rage. Has the 1950's style craze ever really left the fashion world? Hardly! Hipsters, pinup girls, and rockabilly culture still warmly embraces poodle skirts, pouty red lips, and leather jackets as an everyday style staple. With this fabulous fashion making the an appearance this summer with the return of high waisted retro bikini's and rockabilly skirts, plus sized women are finding it harder and harder to find in-store styles in their curvaliscious sizes. Why?
In a study by research group Paradigm Sample, the majority of 1,500 women were reported wearing a size 16. This is hardly big news for regular shoppers, but for clothing companies there is still something shocking about plus sized women. Out of this eye-opening survey, 74% of plus size shoppers admitted to being frustrated during their retail shopping experience.
Shopping is supposed to be a mindless, fabulous therapy session – not a hostile environment that makes women want to skip their lunch! The average size of a western women has been 12+ for quite a while now, making it seem shocking that more stores aren't embracing the body confidence movement and catering to their rockabilly plus size patrons.
It seems like even when stores try to accommodate their plus-size consumers the selections are a bit of a yawn. Most trendy stores don't carry more than a handful of plus size options and the rest are all straight sizes. Indeed, to find a full selection of plus size rockabilly clothing it seems you must head to the inter-webs. While many women can attest that shopping online can still scratch that insatiable fashionable itch, it certainly isn't the same as shopping in-store. When you're a plus-size women (or man), shopping blind isn't usually your favorite option. You want to be able to try things on to see how they really fit, and to see whether the size you're wearing is a true size 14, or if it is a tad tight.
At Punkabilly Clothing we believe that beauty comes in every size, and that the best sexiest pinup girl shows off her curves in plus size clothing. Shop rockabilly dresses, retro swimsuits, vintage tops, tee's, and more in sizes XL-4X. Don't feel frustrated over in-store sizing. Come shop Punkabilly Clothing and be your sexiest self today.