Pinup models have been around for ages. If you've ever wondered what the term meant, or why these ladies became so popular, read on.
The term for pinup models was accepted in 40's, but the history of pinup is much older. It all started in the end of 19th century. In order to attract more audience, burlesque actresses decided to use their sexuality as they pose for the advertisements and posters. It was not only an attractive way of advertizing – it was also an important reason to reassess women's possibilities in public life. It has also announced pinup fashion and pinup art, which still has a big influence on designers. Some great stuff inspired by that style are available here.
And what does the word pinup means? It reffers to the verb "to be pinned up", since the photos, posters or calendars of attractive models were usually pinned up to the wall. These photos are also known as cheescake photos and they were always mass produced.
Pinup style models were completely different than models from our time. First of all, they weren't skinny. Healthy body curves were desirable if a girl wanted to become a pinup model. They've usually posed in provocative clothes, swimwear, tight and attractive dresses like the ones in this collection, with some sexy accessories like suspenders, fishnet stockings and always on high heels. They also have unusual hairstyle, often with fringes and/or hair scarf. Their make up was strong but simple – usually they would put some red hot lipstick and some black eyeliner. The main characteristics of pinup models from 40's and 50's still inspire many girls all over the world, as you could read in our earlier post.
What happened when pinup style became a part of popular culture? Well, there were two main kinds of reactions. Feminists have given their support to pinup models, since they have made an important step for female emancipation. They have contributed to overcoming of shame related to the women's bodies by expressing its full beauty. The presence of pinup photos and posters made women more present in some spheres of public life. From that point of view, it was very progressive thing. But still, some of the more conservative critics have yelled loudly that pinup style is nothing but pure immorality with all its nakedness and revealing.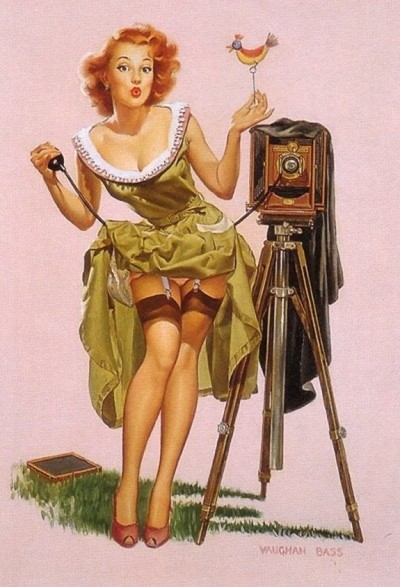 But here is some trivia about pinup models: some of the soldiers who fought in World War II always carried a photo of their favorite pin up models. They have considered it was their lucky charm. The picture of famous pin up model Betty Grable where she poses in a bathing suite was the most reproducted picture during the World War II. Yes, it's the same Betty Grable who inspired Hugh Heffner to found Playboy magazine. So, it's not a miracle that this interesting style still has its followers and admirerers.
No trick and no illusion, pin up style became popular only thanx to the beauty of the models. Some of the most famous pin up girls of all times are probably already familiar to you: Louise Brooks, Gloria Swanson, Joan Crawford, Marlene Dietrich, Mae West, Laurene Bacall, Rita Hayworth, Brigitte Bardot, Marilyn Monroe, Gina Lollobrigida, Kim Novak, Sophia Loren, Bettie Page etc. Famous pin up style models of these days are Heidi van Horne, Dita von Teese, Bernie Dexter and others. If you have a dream to become a pin up model just like them, explore our job offer here.
Pin up style was always an important part of fashion history and pin up girls were always personification of elegant sex appeal, girls with beauty & attitude.