When it comes to punk rock, there are no rules. Yet, when it comes to punk fashion, we can abstract some style characteristics mutual for many punk lovers.
Punk rock fashion complements punk music and together they make one of the most important and most awesome alternative subcultures ever. Punk rock began to develop in 70's in USA and UK. It was created in a response to "overinflated" progressive rock full of long solos and guitar exibitions. This fresh rebellious style has brought a simple rhytm – most of the punk songs have only four chords. It has also brought a lot of pure energy, unique way of seeing things, anarchistic ideas and inspiration for challenging authorities. Sex Pistols are considered to be the first punk band, although it can't be precisely defined. Let's say punk has simply happened and it's a minor question who has started it.
Punk comes in many shapes – as punk rock, surf punk, pop punk, ska punk, skate punk, anarcho punk, punkabilly (or psychobilly) etc. All those music styles have made a certain influence on punk fashion. It is amazing how many of the original basic punk symbols maintained up to nowadays and punkers of today still adore that very same rebellious style.
For example, one of the everlasting characteristics of punk rock is a "must have" crazy hairstyle. Some of the punk rock lovers shave their head completely, while others choose the illustruous "Mohawk" hairstyle. Basically, any wild and rebellious hairstyle is punk hairstyle. Striking and bright hair colors (yes: pink, lime green, blue) are also very popular.
Another favorite fashion flick in punk rock is the leather. Leather jackets, leather skirts, even leather tights. It's all often decorated with bunch of studs or other meatal details, like chains or even safety pins. There's a lot of space for experimenting and creativity and the originality is the only thing that matters. For start, you can check out the some accessories from our recent collection.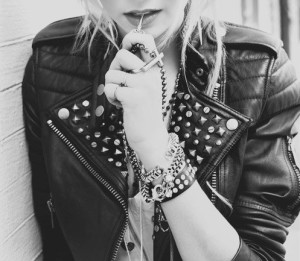 Of course, there are also tattoos and piercings. Often a lot of those. There's a long punk tradition of putting these permanent signs and decorations on own body. As they say – tattoos and piercings are like drugs – once you try them, you are addicted. It's all a part of the punk habit to shock – that's why punk tattoos and piercings are often found on various unusual body parts. Here's a wide choice of body jewelry and we hope you'll find some for yourself.
The details are also very important – details give a personal stamp to every style and make it complete. This rebellious style is very suitable for so many fashion games. You can always add some patches on your old clothes, and this page is full of cool ones. Or, if you want to add a crazy tie to your regular clothing combination, you'll probably enjoy this fashion line. Really, there are no rules. The only rules are to use your imagination and be rebellious as much as you can.
Finally, it's not all about fashion and its habits – it is just a base. The rest is up to you, your ideas and attitude. Let your imagination run wild and enjoy the Punk Rock!